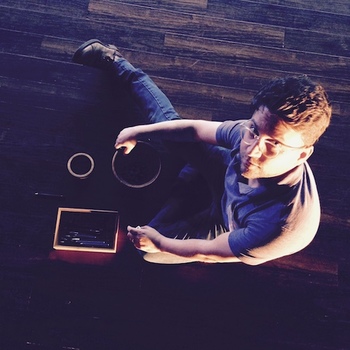 Sidney Pink is an American artist currently based in Baltimore, MD. Many of his projects mix elements of drawing and dance.
Pink lived in Japan between 2004-2008. His early work was influenced by manga, Japanese film, and Butoh. During this period, Pink started exhibiting with Giant Robot in the U.S. and was nominated for a Jury Prize at Takashi Murakami's art festival, Geisai. Japanzine described Pink as, "one of Japan's most inspirational gaijin [foreign] artists."
Pink's current figurative drawings explore the simple beauty of line and negative space through idiosyncratic gestures, distorted proportions, and bizarre scenarios. Pink often collaborates with dancers and actors in creating his drawings.
Pink is the Co-founder of AKIMBO, a festival of site-specific dance and movement art in Baltimore, MD. In 2015 he curated,
Cul-de-sac
, an interdisciplinary project between visual art and dance. Pink has studied dance with Naoko Maeshiba, Liz Lerman, Natsu Nakajima – and performed in two dance films by John & Susan Mann.
Pink has exhibited in New York, Los Angeles, Baltimore, Amsterdam, Tokyo, and Berlin. His work has appeared in various publications including
Fine Line Magazine
,
Japan's Artcollector,
and the
New York Times Magazine
.
Selected Exhibitions & Performances
+ indicates solo exhibition
* indicates performance
2016
Bend & Hold, VisArts, Rockville, MD
*Line Scores, VisArts, Rockville, MD
*Reading Line Scores, Towson University, MD
Unearthed, (Dance Company projection design), Towson, MD
*Sitting in Circles, Towson Installation Gallery, MD
2015
Points of Departure, NMSU Art Gallery, Las Cruces, NM
* Tabata, dance film by John & Susan Mann, Baltimore, MD
Crossing Channels, University of Dundee, Dundee, Scotland
2014
The Jealous Curator: From Blog, to Book, to Gallery, Walnut Creek, CA
Year of the Horse, Giant Robot 2, Los Angeles, CA
* breathe in... breathe out..., dance film by John & Susan Mann, Baltimore, MD
2013
+ Impress Me Like You Care, Andenken Gallery at the Battalion, Amsterdam
Stroke Art Fair with Andenken Gallery, Berlin, Germany
Wider Than A Postcard, Breeze Block, Portland OR
Printed Matter, Giant Robot 2, Los Angeles, CA
Selected Works, Bold Hype Gallery, New York, NY
Space Form, Breeze Block, Portland OR
One Love Prints, Milk & Honey, Baltimore, MD
Far Away So Close, Bold Hype Gallery, New York, NY
2012
+ New Work by Sidney Pink, Gildar Gallery, Denver, CO
One Love, Creative Alliance, Baltimore, MD
Salon Show, Station North, MD
Printed Matter, Giant Robot 2, Los Angeles, CA
+ Welcome to the World, Bold Hype Gallery, New York, NY
Post-it 8, Giant Robot 2, Los Angeles, CA
One Love, Creative Alliance, Baltimore, MD
Salon Show, Station North, Baltimore, MD
Why Not Dream, York Gallery, Baltimore, MD
It's Simple and All True, 1336 Gallery, Baltimore, MD
Game Over, Giant Robot 2, Los Angeles, CA
Year of the Dragon, Giant Robot 2, Los Angeles, CA
Printed Matter 10, Giant Robot 2, Los Angeles, CA
2011
Paper Chasers, Nudashank, Baltimore, MD
Robots, Giant Robot 2, Los Angeles, CA
Post-It, Atticus Gallery, Barcelona, Spain
Almost Always, Double Punch, San Francisco, CA
Tendencies, Bold Hype Gallery, New York, NY
Year of the Rabbit, Giant Robot, Los Angeles, CA
Non Sequitur, Hibbleton, New York, NY
2010
Art in Boxes, AG Gallery, New York, NY
Feeling Better Already, Double Punch Gallery, San Francisco, CA
AAF NYC, Bold Hype Gallery Booth, New York, NY
Printed Matter 8, Giant Robot, New York, NY
Post-It 5, Giant Robot, New York, NY
Strangers, Bold Hype Gallery, New York, NY
Mental Mazes, Double Punch Gallery, San Francisco, CA
Small Favors, Giant Robot, New York, NY
New People Collection, SUPERFROG Gallery, San Francisco, CA
Year of the Tiger, Giant Robot 2, Los Angeles, CA
2009
Aqua Art Miami, Bold Hype Gallery Booth, Miami, FL
Men at Work, Giant Robot, New York, NY
Giant Robot Biennale: 15 Years, Japanese American National Museum, LA, CA
Illustrative 09, Berlin, Germany
Printed Matter GR2, Giant Robot 2, Los Angeles, CA
Giant Robot 15 Years, Giant Robot, San Francisco, CA
Pencil Pushers, Giant Robot, San Francisco, CA
A NY Print Show, Giant Robot, New York, NY
Tree Show V, Giant Robot, San Francisco, CA
Out of Order, Maryland Art Place, Baltimore, MD
Game Over/Continue?, Giant Robot, San Francisco, CA
For the Love Of..., Giant Robot, San Francisco, CA
Artist's Shop Vol.2, AG Gallery, Brooklyn, NY
Printed Matter IV, Giant Robot, San Francisco, CA
2008
Artist's Shop, AG Gallery, Brooklyn, NY
Suggestion Box, Giant Robot 2, Los Angeles, CA
Paper Airplane, Paperwork Gallery, Baltimore, MD
15x15, Meyerhoff Gallery, MICA, Baltimore, MD
I And You, Abacot Gallery, Los Angeles, CA
Sidney Pink: Artist Booth, GEISAI Museum 2, Tokyo, Japan
2007
Fragment, Wedge, Tokyo, Japan
+ The Vostok 40, The Pink Cow, Tokyo, Japan
Design Festa, TokyoMade Booth, Tokyo, Japan
Only Phenomena to be Studied, Design Festa Gallery, Tokyo, Japan
15x15, Meyerhoff Gallery, MICA, Baltimore, MD
Monsters from the ID, Design Festa Gallery, Tokyo, Japan
Selected Press & Bibliography
Callahun, Maura, "Unique Performances to Station North", CityPaper, 9/11/2015
AKIMBO Dance Festival, Fox45, Baltimore, 9/6/2015
Ober, Cara, "AKIMBO", BmoreArt, 9/4/2015
Stuelpnagel, Dan, "mapping Out AKIMBO", What Weekly, 9/11/2015
Highlight on AKIMBO Dance Festival, WYPR, Baltimore, 9/6/2015
Rotkovitz, Miri, "Arts Entrepreneurship", COFAC Today, Spring 2014, p 10-11
Krysa, Danielle, "Creative Block", Chronicle, 2014, p 86-91
Burke, Meredith, "Holiday Wish List", Vogue.com, Dec 2012
Ober, Cara, "Gertrude Stein Questionaire: Sidney Pink", BmoreArt, 11/26/2012
"Almost Always" San Francisco Chronicle, 5/26/2011
Steeber, Jessica, "Sidney Pink", Fine Line Magazine, Issue 1, Nov 2010, p 2-3
Strangers Catalog, Bold Hype Gallery, New York, 2010
Illustrative 09 Catalog, Illustrative e.V., Germany, 2009
Thackway, Hilary, "Sidney Pink", Eldoi Magazine, Issue 1, Fall 2009
Paper Airplane Catalog, Paperwork Gallery, Baltimore, 2008
Locus Issue 5, Locus Magazine, Baltimore, 2008
Yoneyama, Kei, "Emerging Artists", Artcollector, No. 10, Oct 2008, p 145
"Sidney Pink: Sci-Fi Meets Anime Cool" TokyoArtBeat.com, Jan 2008
"Sidney at the Pink" Japanzine, Dec 2007, p 19
Education
Bachelor of Fine Arts, General Fine Arts, 2001
Maryland Institute College of Art, Baltimore, Maryland, United States